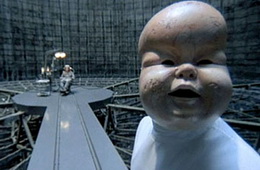 I should have known it was going to be something…different.
In fact, I knew it would be, as every true Berliner I met would smile slightly and tell us that if we wanted to see the true underground Berlin, we should go there.
So I knew.
But when you factor in that the invite came from a member of West Side Story (Deutsch) and her brother (who owns a widely popular dildo store), as well as the fact that we met them both in a place called 'Chantele's House of Shame', it all adds up to the fact that we should have known this ensuing trip would be enlightening.
And I'm not bragging – but between Alonso and I – there's not a lot that hasn't been witnessed.
That being said, we tried hard in coming up with some acceptable outfits for this club. He settles on suspenders & schoolboy-hair, myself a wife-beater, tie and top-hat. But my gal pal, in her mostly-charming Germanic ways sent us straight back home to 'change into something nicer than the blue-jeans!'. So we did.
And finally, around midnight, arrived. The line was long, as it was this club's 15th birthday party, but someone knew someone else and we were ushered in.
I have no other way of writing this than to simply take you on a tour….of 'The Kit Kat Club' – motto: 'Do what you want, but stay in communication'.
For the very brave, feel free to type in 'Kit Kat Club Berlin' into Google Images and see what we did. But be warned.
We walked in, handing our coats to a lady of no-less than 50 years old – wearing an aluminum poncho with openings for her sagging breasts. I think I was the only one who looked. As soon as we reached the end of the table, there was a man sitting calmly in his chair, saying 'halo' to friends who walked by – all the while rubbing himself into what has to be said was a pretty-impressive erection. Black and white was everywhere. Men in corsets and women with nothing on but tiaras. PVC was somehow the most popular choice – despite the intentionally hot rooms. There were a few dance floors and a lot more nipple piercings. If you didn't accidentally brush by someone either giving, or receiving, oral sex, then you didn't really stay long enough. There was sex in the corners and sex on stage. Not a lot of drinking, but for undisclosed reasons everyone was dancing, and would be for at minimum, 6 more hours. There was a pool – 'But don't go in there', said the big German with his cowboy boots and roller-skating shorts, 'some things cannot be cleaned'. Wise words. Sweat was everywhere, both from the drugs and the bodies. Gimps. Cops (both real and fake). Lawyers. Vikings. Aliens. Gangsters. Body-builders. And schtupping. A whole lot of schtupping – this wasn't love-making, by any sense. If you don't believe me, visit this place and head down to the basement – the only 2 rules being that you have to bring someone and entertain the rest as well. Water bottles were opened and poured on people at random – who in turn begged for more. These are just the things I feel comfortable writing about…
But the most eye-opening, absurd fact about this place had nothing to do with sex at all…
It was the most chilled-out bar/club I've ever been to.
Everyone was so unbelievably laid-back.
Do what you want…
Not one fight, despite the chaos and chemical mix.
…but stay in communication.
Hitler laughed with a Nun. Straight men in nurses outfits. Lesbians being led around on choke-collard chains by a skinny 20-something boy. People were finally able to go to a place and not be judged. I people-watched most of the time and not one eye was rolled at another's outfit (or lack thereof). Sure, the guy in his mid-40's could have gone up a size in his women's panties, but even he seemed to laugh about it. I talked to everyone (because there's only 3 things you do there and I'm a crap dancer) and it was all the same:
'I've lived all over Europe, New York and Japan and this is the best club in the world'.
'Never seen a hand raised…at least, not in anger'.
'How can you not like a place that caters to exactly how you are?'
Et al.
…we stumbled out around 7am this morning, but even with my eyes bloodshot from then entire undertaking, I was still able to notice the man walking to the subway, dressed in the best suit he could afford, messy knot for a tie and earphones loud with some sort of death metal.
I wonder what he's really like.
This actually took me back to something someone said to me a week ago at Carnival in Switzerland, something that at the time would have been a great photo caption, but now really makes sense:
'Everyone here is in costume – but no one is wearing a mask'.
Nice to know there's at least one place in the world where clientele's pants are too tight to hold that first stone.